Chloraprep Phlebotomy Site Preparation
In line with our charity's values Pioneering, Real and Caring, to ensure that we are trying to provide our patients with the best, evidence-based care we can, we would like to trial a different skin preparation protocol for phlebotomy sites.
Chloraprep® is a single use, easy to apply, 2% chlorhexidine and 70% isopropyl alcohol, sterile system for skin disinfection.
The sterile solution is maintained in a glass ampoule inside a protective outer case and, to prevent contamination, the patented design ensures users don't come into contact with either the contents or the patient's skin.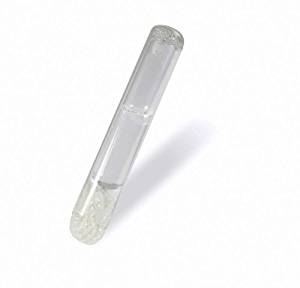 Most surgical site infections (SSI's) are the result of contamination from a patient's own skin flora1, a fact which highlights the importance of thorough and effective preparation of the skin as a proactive way to minimise the incidence of SSI's in patients.
Research has shown that Chloraprep® has demonstrated significantly better antimicrobial activity than other combinations2.
The way in which the solution is applied to the skin is as important as the solution itself.  Studies show that the most effective way to apply Chloraprep® is with a back and forth gentle scrubbing movement because this gives a lower microbial count on the skin than using other application methods3.
Once applied, Chloraprep® is active in 30 seconds and is effective for up to 48 hours4.
The following video instructs on the correct skin preparation and the application of Chloraprep®.  Once viewed please complete the short quiz to release the training certificate.
The trial will be carried out over a period of months after which feedback will be taken from you on the ease of use and the incidence of recorded adverse donor reactions involving the skin at the phlebotomy site will be compared to pre-trial records to decide if the use of Chloraprep® will replace our current skin preparation protocol.
References
1.      Florman S, Nichols RL. Am J Infect Dis 2007; 3: 51-61.
2.      Hibbard JS. J Infus Nurs 2005; 28: 194-207.
3.      Rosenthal K. Nurs Manage 2006; April: 55-66.
4.      Garcia R et al. Abstracts of the IDSA 40th Annual Meeting 2002; Abs 418.
https://elearning.petbloodbankuk.org/wp-content/uploads/2019/12/PBB_IDENTITY_STACKED_RGB-002-300x225.png
0
0
Helen Rooney
https://elearning.petbloodbankuk.org/wp-content/uploads/2019/12/PBB_IDENTITY_STACKED_RGB-002-300x225.png
Helen Rooney
2020-01-02 10:23:20
2020-01-31 09:59:24
Chloraprep Phlebotomy Site Preparation